Retaining walls serve a crucial purpose in landscape design, providing stability, preventing erosion, and creating usable spaces on sloped terrains. However, these functional structures can also be an opportunity to enhance the aesthetics of your outdoor space. With a wide range of materials, styles, and construction techniques available, retaining walls can be both functional and visually appealing.
Discover the multitude of retaining wall designs, highlighting their benefits, considerations, and creative ideas to elevate your landscape's beauty and functionality.
Purpose and Benefits of Retaining Walls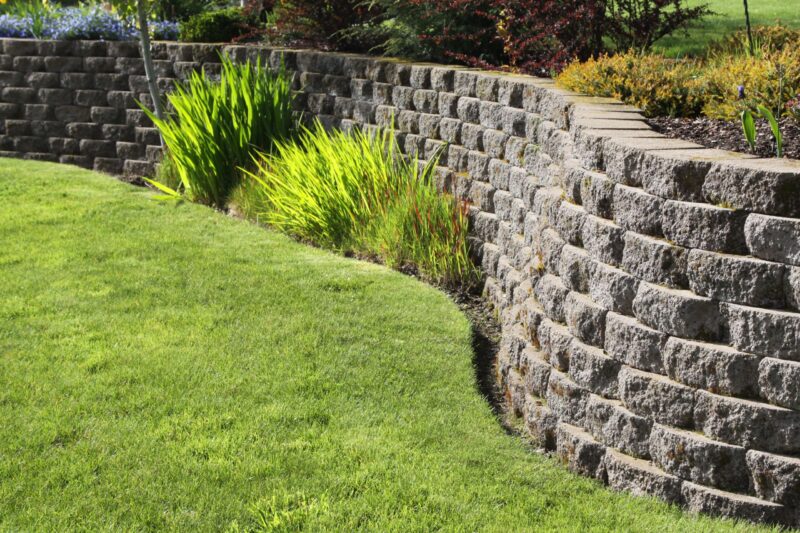 Retaining walls are primarily designed to hold back soil and prevent erosion, especially on sloped landscapes. They help create level areas for gardens, terraces, patios, or pathways. Additionally, retaining walls provide structural support, protect against landslides, and control water drainage. By understanding the purpose and benefits of retaining walls, you can make informed decisions about their design and construction.
Materials for Retaining Walls
They can be constructed using a variety of materials, each offering unique aesthetics and functionality. Some common materials include:
Concrete: Concrete retaining walls are durable and can be constructed in various styles, such as poured-in-place, precast blocks, or decorative concrete panels. They provide a sleek and modern look, offering versatility in design options.
Natural Stone: Stone retaining walls create a timeless and natural appeal. They can be built using materials like limestone, granite, or fieldstone. Natural stone walls blend seamlessly with the surroundings and offer a rustic and organic charm.
Timber: Timber retaining walls have a warm and natural aesthetic. They are commonly made with pressure-treated wood or railroad ties. Timber walls are relatively easy to install and provide a softer look in comparison to other materials.
Brick or Block: Brick or block retaining walls offer a classic and traditional appearance. They can be constructed using bricks or concrete blocks, providing strength and durability. Brick or block walls can be customized with different patterns and finishes to match the overall design theme.
Gabion: Gabion walls are unique and eye-catching, constructed using wire mesh baskets filled with stones. They offer a modern and industrial look while providing excellent drainage and stability.
Design Considerations: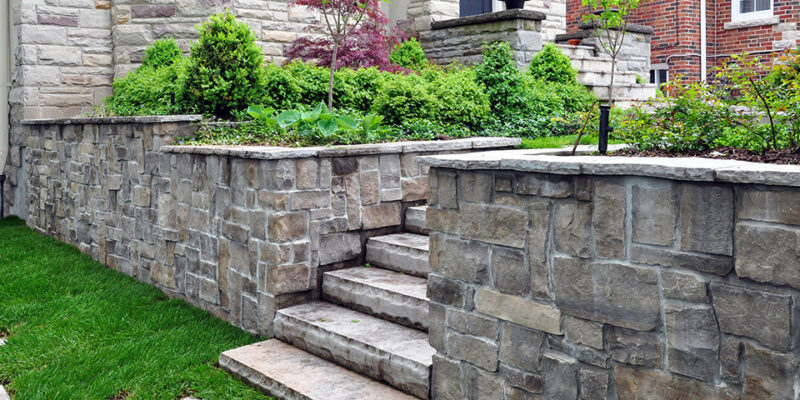 When designing a retaining wall, several factors should be considered to ensure functionality, durability, and visual appeal:
Height and Slope: The height and slope of the terrain will influence the design and construction of the retaining wall. Higher walls may require additional reinforcements, such as buttresses or geogrids, to provide stability.
Drainage: Proper drainage is essential to prevent water buildup behind the retaining wall. Incorporate drainage pipes, gravel backfill, or weep holes to allow water to flow through the wall and avoid hydrostatic pressure.
Soil Conditions: Understanding the soil conditions is crucial for designing a reliable retaining wall. Different soil types, such as clay, sand, or loam, have varying properties that impact the stability and drainage requirements of the wall.
Climate and Weathering: Consider the climate and weather conditions in your area when selecting materials for the retaining wall. Some materials may be more susceptible to weathering, freeze-thaw cycles, or temperature fluctuations.
Aesthetics and Integration: The design of the retaining wall should harmonize with the overall landscape and architectural style of your property. Consider the colour, texture, and shape of the materials to create a visually pleasing and cohesive look.
Creative Retaining Wall Ideas: Elevate the aesthetics of your landscape with these creative retaining wall ideas:
Tiered Walls: Create a cascading effect by incorporating multiple tiers or levels in your retaining wall design. This not only adds visual interest but also allows for the inclusion of plants, creating a stunning vertical garden.
Curved Walls: Instead of a straight and linear design, opt for curved retaining walls. Curved walls soften the overall look and provide a sense of flow and movement in the landscape.
Integrated Seating: Blend functionality with design by incorporating seating elements into the retaining wall. This provides a practical seating area for relaxation and entertaining while optimizing space.
Water Features: Transform your retaining wall into a captivating water feature by integrating a cascading waterfall or a tranquil fountain. The combination of flowing water and the structural beauty of the wall creates a soothing ambiance.
Lighting Effects: Illuminate your retaining wall with strategically placed outdoor lighting. This highlights the texture and architectural details of the wall while creating a warm and inviting atmosphere during the evening hours.
Artistic Accents: Consider incorporating artistic accents, such as mosaic tiles, decorative patterns, or customized sculptures, into the retaining wall design. These unique touches add personality and make the wall a focal point in your landscape.
Conclusion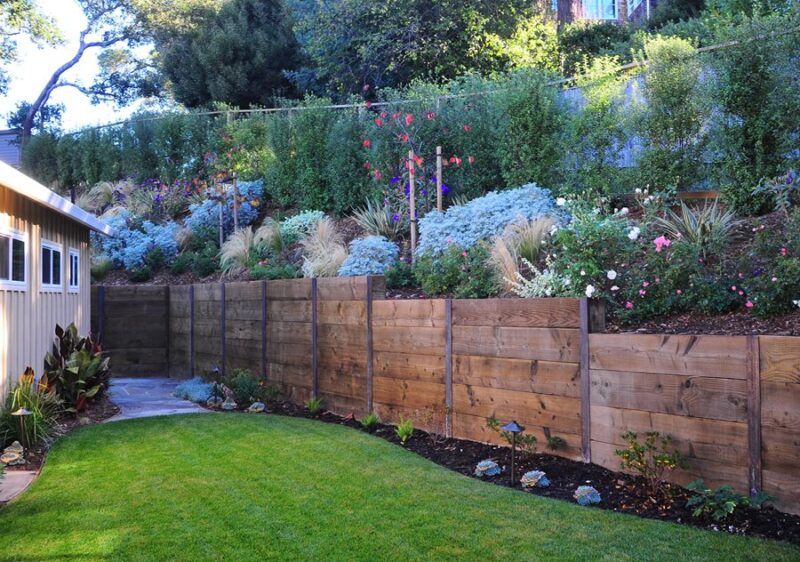 Retaining walls are not only functional but also offer opportunities to enhance the beauty and usability of your outdoor space. By choosing the right materials, considering design factors, and incorporating creative ideas, you can create visually stunning and structurally sound retaining walls. Whether you opt for concrete, natural stone, timber, brick, or gabion, the design possibilities are vast. So, take inspiration from these ideas, collaborate with professionals, and transform your landscape with retaining walls that balance functionality and aesthetics, adding depth and charm to your outdoor living experience.