You have decided to spruce up your garden, expand your indoor space by spilling out an extra room outside or add a natural-looking extension to your conservatory. The outdoor flooring of your new airy entertainment area always triggers valid questions to consider. What material should you use? Decking and what type of decking or patio and what type of patio?
The factor elements that feed our dilemma are usually based on subjective views, such as what is trendy at the moment, what the neighbours have installed in their garden, or what will make them more jealous. We may even contemplate whether our friends will be impressed with the new outdoor living space that we have created. Last but not least, in our reasoning comes the viral Landscape Design TV series we have been following. We simply want something that we have seen on the small screen.
Now, then, let's start again. Get out of your dreamy and irrational mode of thinking and put on your pragmatic and logical hat! You do not want to end up making the wrong choice and start pulling your hair at the sight of a miscalculated high deck or a poorly paved patio, which collects rainwater at one end.
Below we focus on the general cons rather than the pros in an attempt to promote the idea of the importance of careful consideration, thoughtful planning, and practical thinking before embarking on your fancy outdoor project.
The site will determine which one is best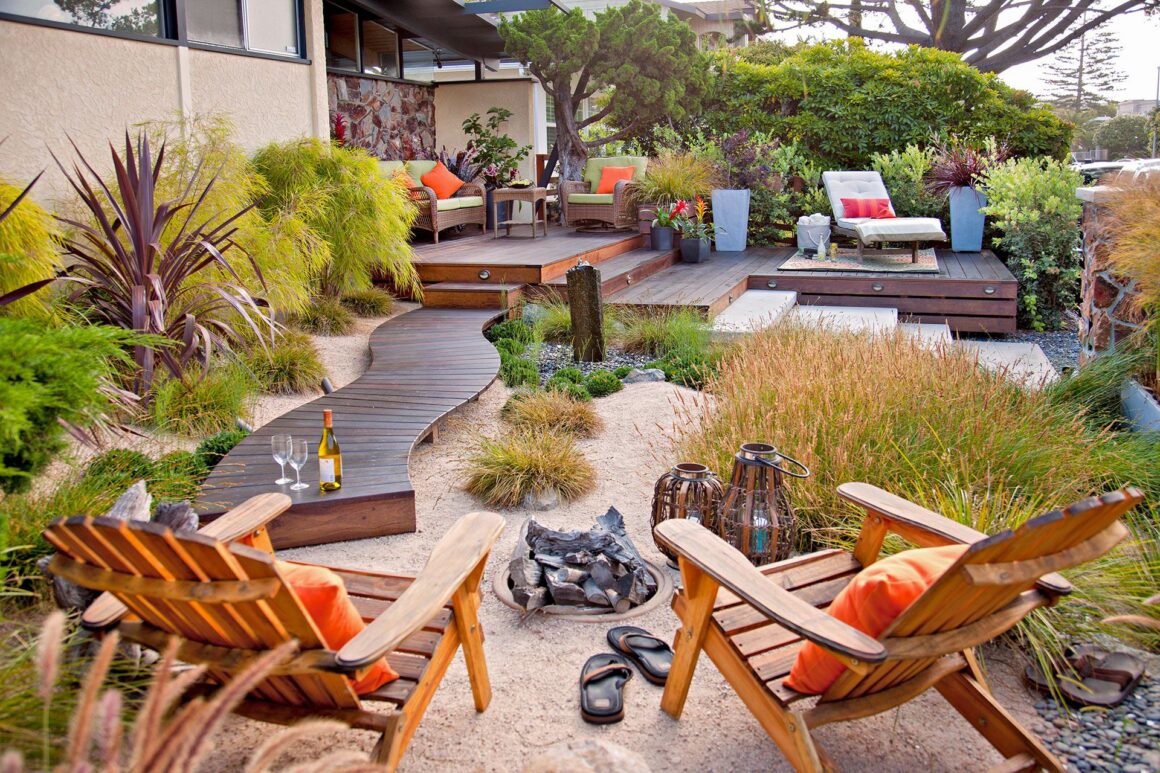 How big is the designated area? Is it adjacent to your house? Is your garden on a slope? Are we talking about a front garden or a backyard?
Decking
The topographic profile of the terrain is a crucial consideration to reflect on before making a decision to throw some granite slabs and create a dream patio. If your garden is uneven and rough, it begs for a deck to be installed.
Patio
A natural stone patio will be an aesthetically pleasing choice if you are trying to achieve an organic extension of your house that ties in with the stone walls. The same applies if you plan to revamp a surface adjacent to your back door, which exits on ground level. A patio will be the sensible thing to do in such a situation.
The climate for your deck or patio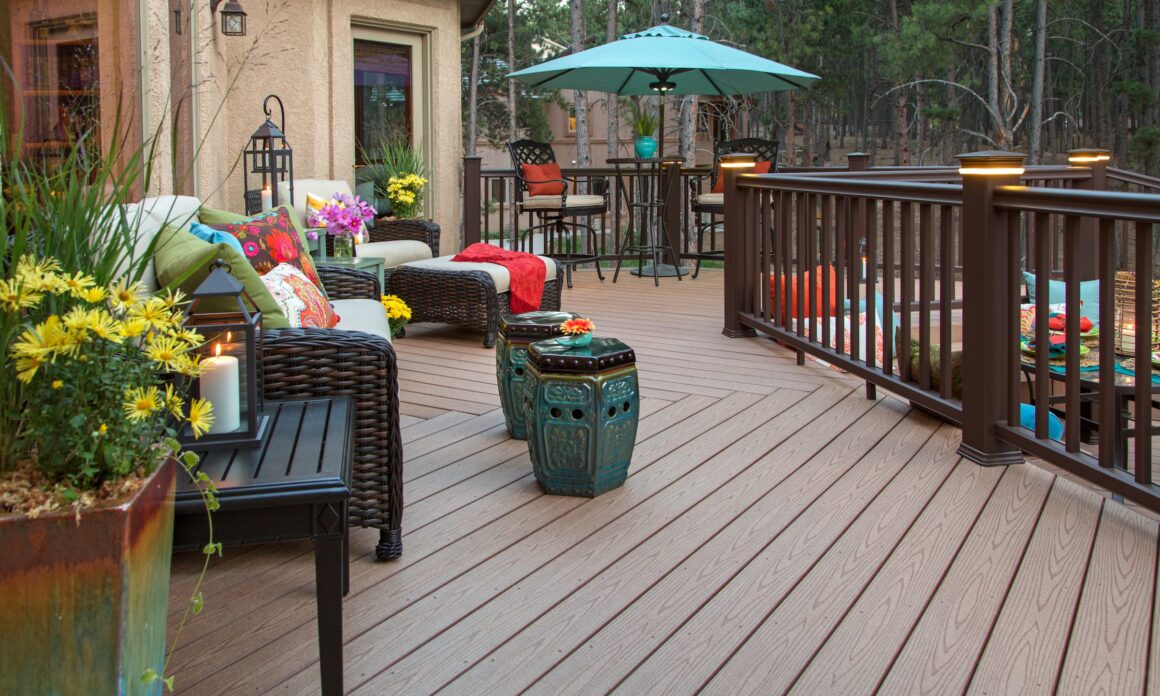 Do you live in a hot and humid climate like in Sydney, or does it rains a lot where you are? Are you a beach homeowner, or maybe, it is common to get heavy snowfall in the winter in your locale, somewhere up in the Northern hemisphere?
Decking
A composite PVC decking will get too hot to walk on in scorching weather and high temperature. It will also become slippery and hazardous if it does not have some texture to its surface. Natural wood decks constructed right by the beach may get damaged quicker by the high salt levels in the outside elements.
Patio
Incorrectly installed patios in gardens with a problematic drainage system will give you a hard time living in an area marked by intensive rainfall. In cold climates, low night temperatures tend to trigger the formation of black ice on paved surfaces.
Maintenance is also pivotal
Are you an outdoor person and know your garden stuff and handyman tricks? Do you know how to clean and keep weeds out of outdoor areas? Or do you lead a busy lifestyle and have to hire professionals to maintain your outdoor recreational area?
Decking
Natural wood decking requires regular sanding and varnishing if you want to extend its lifespan. You should also check for loose screws and other tired fastening elements to keep the structure in place.
Patio
A regular pressure cleaning of your patio is usually a good enough maintenance trick for any type of paving material. However, experts advise that, once a year, you should apply an outdoor sealant on your concrete or tiled patio to avoid rainwater seeping through the grout and weakening the structure.
Is patio or decking more budget-friendly?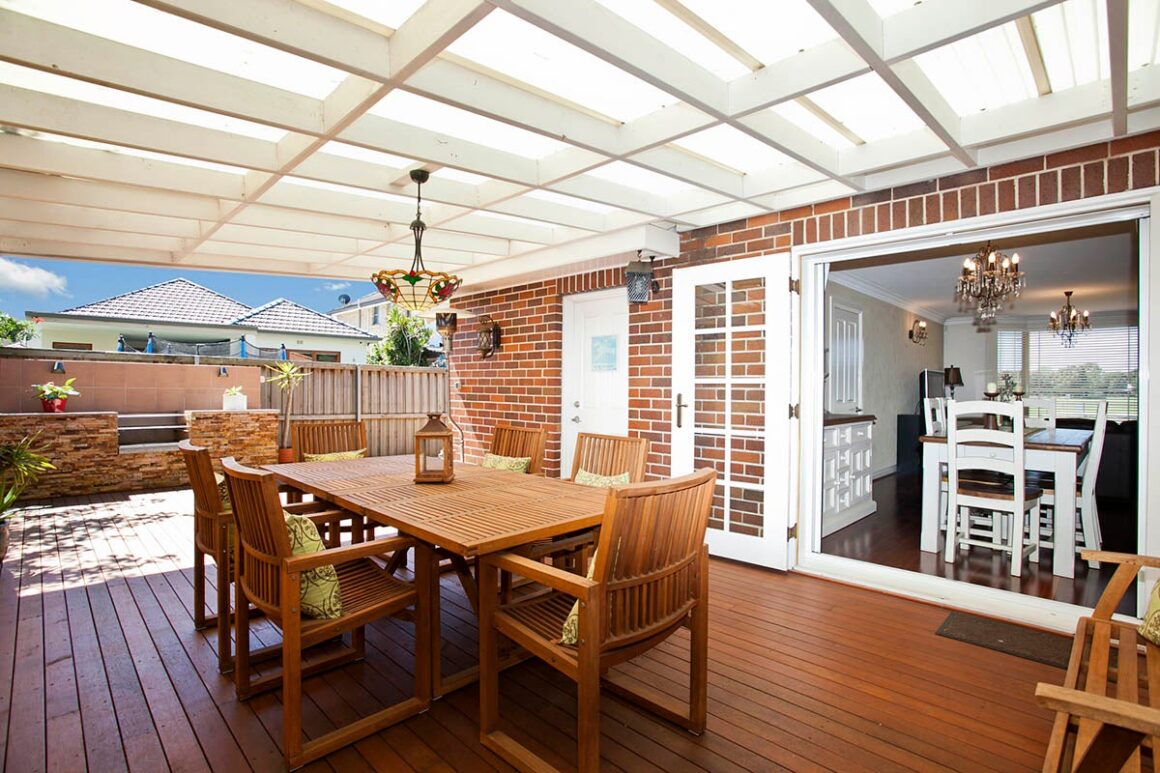 Choosing between decking or a patio for your outdoor area depends on a few factors, including your budget. In general, decking tends to be more expensive than patios, but it also offers some unique benefits that may make it worth the extra cost.
Decking is typically made from high-quality materials such as composite or hardwood, which can be more expensive than the materials used for patios, such as concrete or gravel. Additionally, decking often requires more complex installation and maintenance, which can add to the overall cost. However, decking can offer a more elegant and luxurious look and feel than patios, adding significant value to your home if you decide to sell it.
Patios, on the other hand, tend to be more budget-friendly and low-maintenance. They can be constructed from various materials, such as concrete, pavers, or gravel, which are often less expensive than those used for decking. Patios also require less upkeep and can be easier to install, saving you money on labour costs. While patios may not offer the same level of elegance as decking, they can still be visually appealing and provide a comfortable outdoor living space.
Ultimately, the decision between decking and patio comes down to your personal preferences, budget, and the overall look and feel you want for your outdoor area. If you're looking for a high-end, luxurious outdoor space and are willing to invest in the cost and maintenance of decking, it may be worth it for you. However, a patio may be the way to go if you're looking for a more budget-friendly and low-maintenance option.
Decking Vs. Pavement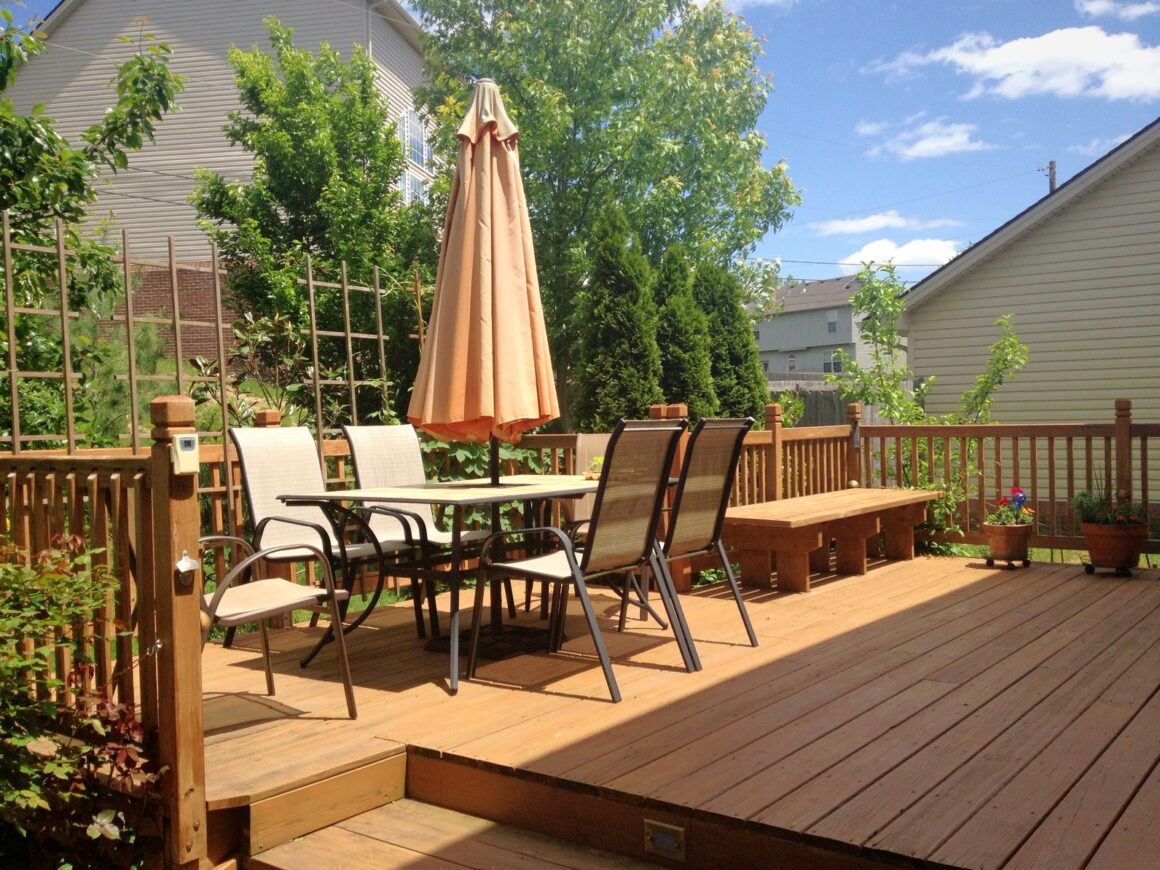 Composite decking is far cheaper than natural wood, of course, and marble slabs are a luxury compared to concrete pavers. But budget considerations do not amount to just the cost of the actual material. If a sloped garden compels a high deck to eliminate the need to spend a fortune on terracing the area, installing a decking close to a flat ground may prove more laborious, i.e., expensive, than paving it with natural stone tiles.
A patio, in this case, may be the cheaper and more straightforward option because installing decking just above ground level requires several steps to prepare the undersurface layer – removal of the topsoil, provision of good drainage, weed killer treatment, etc.
If you're looking to enhance your outdoor living space, a patio or decking can be a great addition. But what about when the sun gets too hot, or the weather turns rainy? Patio covers can help protect your outdoor area from the elements and make it more usable throughout the year. Home Remedy Houston offers professional Houston patio installation services and a variety of patio covers to fit your style and budget. Their expert team can work with you to create a beautiful and functional outdoor living space that you can enjoy year-round. Check out their website to learn more about their Houston patio installation services and patio covers, and start planning your dream outdoor living space today.
Conclusion
To sum it up, the above points outline the pre-action steps, and hopefully, you will feel prompted and encouraged to discuss your project with a pro. Get a quote and some advice from the decking specialist and the paving expert, even if you are determined to have a DIY go at transforming your outdoor space. In this way, you will diminish the chance of making an erroneous and costly choice, resulting in wasted efforts, unnecessary stress, and a much-hated eyesore of a garden feature rather than an enjoyable retreat for your relaxation or outdoor entertainment.