One of the most important things after owning a home is to make it seem and feel like one. There are many things that one has to do to make sure that the home feels like home. From choosing the right furniture to the beautifully detailed interior decor, the list could go on and on. However, the exteriors are the ones that are the centrepiece and serve as the first attraction to a building. After the walls, the doors and windows are the saviours.
There are many varieties of doors and windows available in the market that you can select from. All these, when selected carefully, can add to the beauty and style factor of the building. There are many firms, both online and offline, to help people select the best type of windows and gates for their homes and other properties. If you are looking for glass doors in Perth, then you can visit this link and find some decent deals on the same.
Styling exteriors which match and compliment the interiors is something that everyone wants to achieve. But this should be done per the current trends in the area to stay modern and happening. The following article has covered a few of the top trends for windows and doors that will keep your home stylish and modern for a few years:
Floor To Ceiling Windows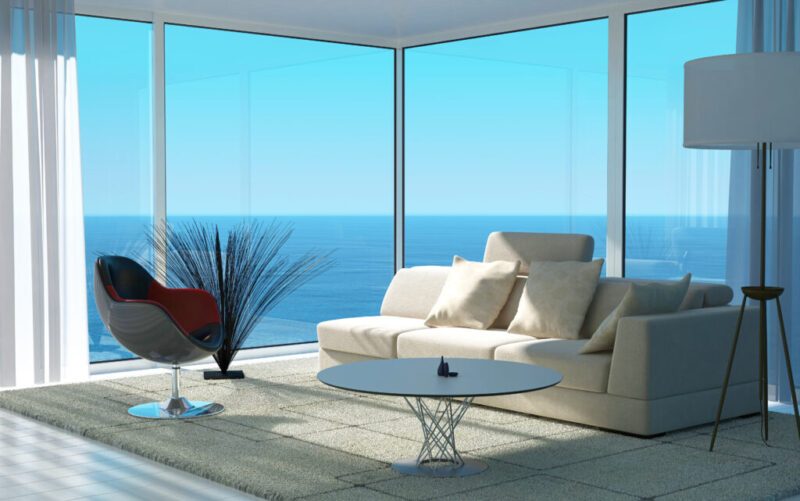 These have been in trend forever, and would always be. If your property is located in a decent area with picturesque sceneries scattered all over, then this idea is for you. High windows are a great source for entering the natural light into the house, whilst giving it a very elegant and aesthetic touch. Moreover, these allow nature to mix well into the house, making the two inseparable and unique. These big windows are an excellent choice if the estate is located in a hilly region or by the beach. They create a perfect backdrop for marvellous pictures and help to increase the resale value of the property.
However, one must also understand that these ceiling-high windows would also mean professional installation and upkeep. Additionally, these are not very ideal for busy areas, which see a lot of footfall and other traffic.
Rainbow Glass Doors And Windows
Rainbow glass or the reflective sheet that produces a rainbow effect when sunlight hits is very popular these days. These effective doors and windows add to the dramatic nature of the house, making it look sophisticated and well-kept. These are very easily available in the market, as there are many alternative products available these days to create the same effect.
There are stick-on rainbow sheets and stickers available in the market, which can be easily applied and removed as well. These are pasted on the glass panels from where sunlight enters, gets reflected and scattered as a rainbow pattern all around the place.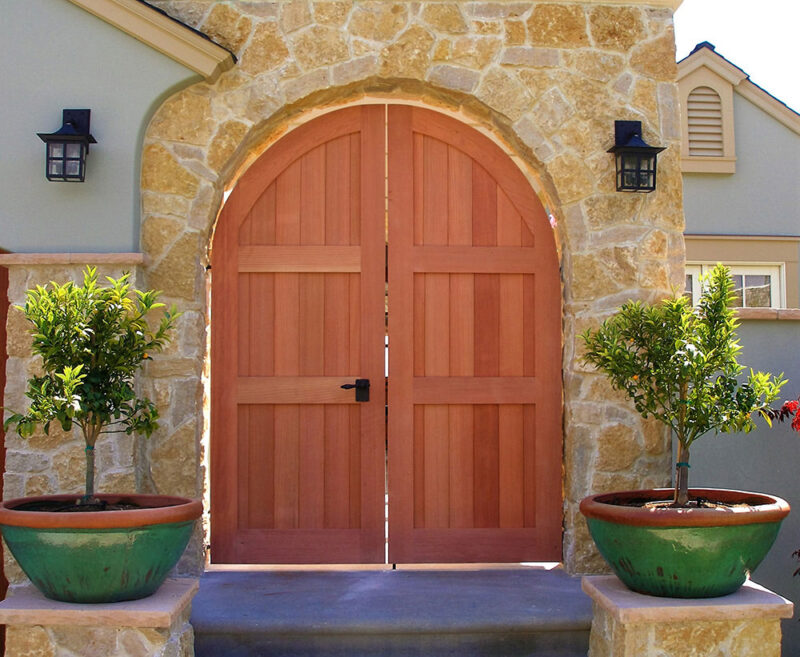 Arched Gateways And Doors
Simple, plain and rectangular doors are safe options to choose from and apply. But sometimes, this becomes dull compared to the funky nature of the household. There is a simple yet innovative way to address this situation and resolve this – the use of arched doors. Arched doors are not new and alien to people. They have been used extensively throughout ancient and historic architecture.
They add a character of vivid shapes to the house, making them look elegant and modern. These geometrically designed gateways provide an extra dimension and depth to the doorways and add to the height of the same.
Sliding Openings
Though these are very common in east Asian countries, sliding doors and windows have been making an entrance silently all over the globe. They are now considered a fashion statement on the Western side of the globe and are quite functional as well. Ditching the traditional hinge mechanism, these sliders glide over the floor surface with underneath attachments, making them work seamlessly.
These doors can easily be fitted in such a way that they are completely hidden behind storage units, such as refrigerators and cabinets, when not in use. This not only makes it space efficient but also gives a new touch to the entire place.
Frosted Glass Doors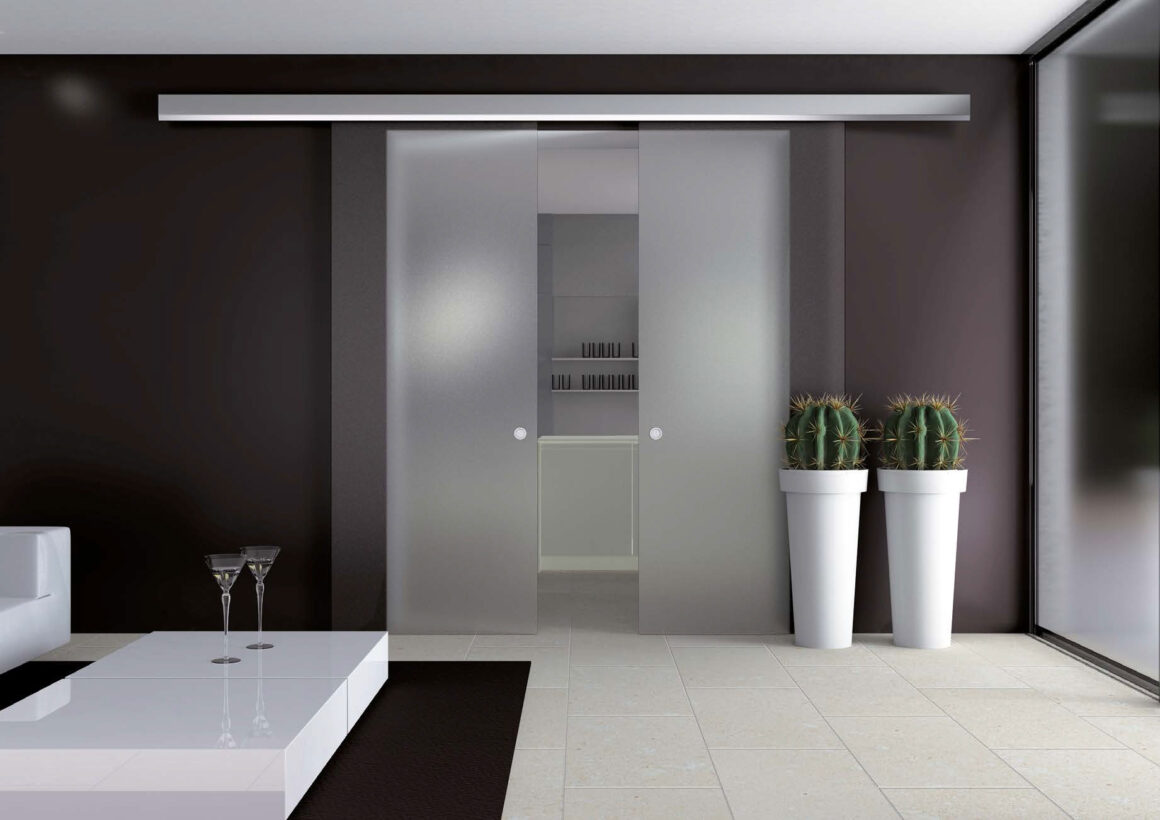 Whether you want to add a privacy factor, or just want to add texture to the boring, dull doors and gates, frosted glass can be used in more ways than you can imagine. Usually used in bathroom windows and shower doors, frosted glass is not uncommon. It is one of the most preferred materials for windows where private moments cannot be compromised.
However, if you have a dock and peaky neighbours, then doors made out of this material would be life-saving for you. No one likes the invasion of privacy by passersby. These doors would enhance the privacy of the house, and would not disturb the natural light. This allows you to have your moments privately, without compromising on the flowy and bright atmosphere of your room.
Some Things To Consider Before Window And Door Installation
As much as you want your house to look modern and fun on the outside as well as the inside, it is important to make sure of a few things beforehand to avoid future problems:
1.  Geographical Location Of Your House
If you live on the wetter side of the planet, and experience more downpours than the others in general, then you might want to stick to doors and windows made out of synthetic materials, such as PVC vinyl, and fibreglass. These are resistant to moisture and would not corrode easily.
2.  Budget
Some materials are more expensive than others. While this is a true statement, this also means that sometimes expensive stuff tends to last longer. Do your research and get professional help before installing anything.
Conclusion: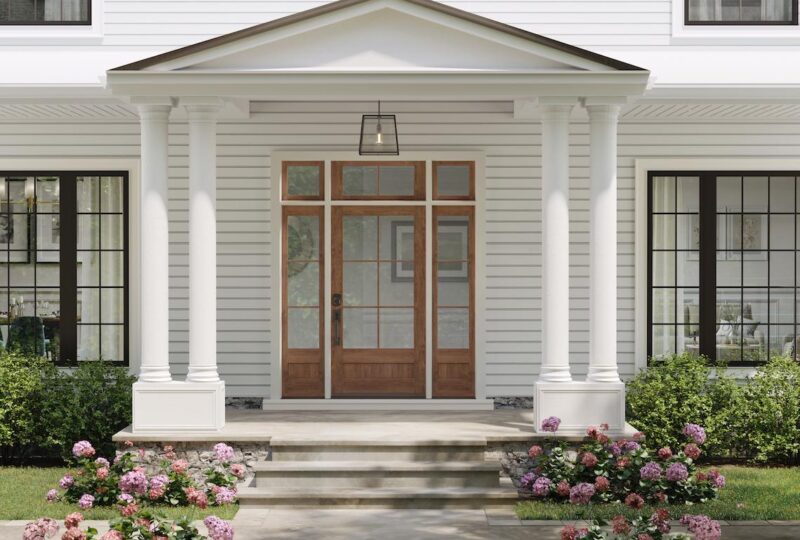 While selecting doors and windows for a new home, or replacing the old ones, there are many designs, colours, shapes and sizes that one can choose from. Be sure to match the aesthetics to the aura of your home, and what it represents.