Gardeners can find choosing the right greenhouse challenging, regardless of whether they are novices or seasoned pros. We'll help you navigate all the choices and features available to find the perfect greenhouse. The information in this article aims to help you choose and purchase the suitable greenhouse for your space and budget.
How Do Greenhouses Work?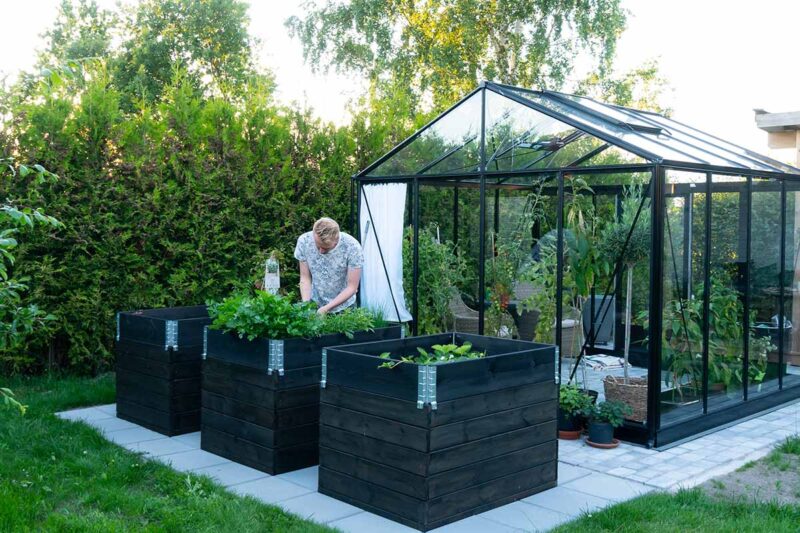 Greenhouses create a controlled environment for the plants inside them to grow. Their structure is typically made of glass or plastic, allowing sunlight to enter and creating a warm and humid climate where plants naturally thrive. Ventilation, heating, and moisture all contribute to maintaining the warmth and humidity inside a greenhouse.
A great advantage greenhouses offer is that they allow plants to thrive throughout the year, even in regions with colder weather. When it comes to caring for plants, greenhouses are particularly beneficial. Creating a more stable and regulated environment offers protection from diseases, insects, and severe weather conditions, which is incredibly important these days, considering climate change and unpredictable weather. Greenhouses also allow gardeners to experiment with plants and crops previously considered unsuitable for their area's climate.
It's necessary to consider factors such as temperature, humidity, and lighting to optimise greenhouse conditions. You can use equipment such as fans, heaters, and shade cloths to regulate the environment and ensure your plants grow in the best climate possible.
A greenhouse is an excellent option for anyone interested in growing their own produce. To ensure a successful outcome, make sure to select plants that thrive in the conditions found inside greenhouses – think tomatoes, peppers and cucumbers. Besides that, pay close attention to watering and fertilising because greenhouse plants may require more frequent and precise watering than ones grown outdoors. To ensure your plants thrive, regularly monitor your greenhouse's temperature and humidity.
Which Is Better: Green or Clear Greenhouse?
Choosing a green or clear greenhouse largely depends on your growing needs and environmental factors. It is crucial to consider both options' advantages and disadvantages. For instance, clear greenhouses are great for plants that rely heavily on sunlight, as they provide optimal light access. Besides that, they also allow you to see your plants clearly from the outside, which can help monitor their growth and spot any issues. If your goal is to start seedlings for outdoor transplanting, for example, the direct light of a clear greenhouse will be the better option for you as it favours seed sprouting.
On the other hand, green greenhouses can provide a bit more shading, which helps reduce heat buildup inside the structure. This can benefit growing plants sensitive to high temperatures, such as lettuce or other leafy greens. By reducing the amount of light that enters the structure, greenhouses with a green or coloured covering can also help prevent overheating and scorching of the plants.
Before settling on the type of greenhouse that best suits your needs, it may be worth contacting a gardening expert or greenhouse supplier for assistance. They can advise you based on your individual requirements and needs.
What Factors to Consider When Shopping for a Greenhouse?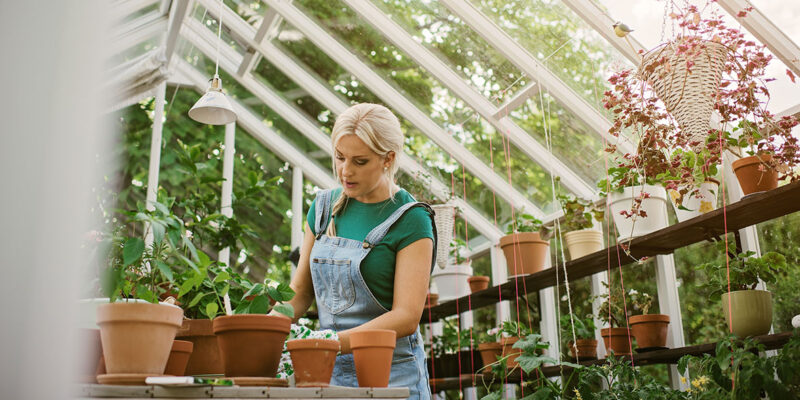 When shopping for a greenhouse, there are several important factors to consider before a purchase is made. It is important to select a structure which will provide the ideal growing conditions for the plants you wish to nurture.
1. Consider the size. First, you must determine what plants you want to grow inside of the greenhouse. Depending on that, you must choose a size big enough to provide them with the necessary space for normal growth.
2. Next, you'll need to choose the right material. Usually, most greenhouses are made from materials such as glass, plastic, and polycarbonate. Cost, durability, and insulation properties should all be considered when choosing between the desired greenhouse material. When thinking about the insulation properties, consider the climate in your area, specifically the winter weather. If it's icy and snowy, invest in a greenhouse with good insulation, such as multiple-walled polycarbonate with internal double- or triple-air spaces between the layers. However, suppose the winter in your area is mild. In that case, such serious insulation isn't essential, especially if you're planning your greenhouse to only be a place to germinate and nurse young plants. Lastly, if you live in a windy area, consider a more substantial material, such as tightly woven polyethene or polycarbonate, on a sturdy frame and pay extra attention to how you anchor your structure to the ground.
3. When shopping for a greenhouse, it's also important to consider the ventilation needs. Proper ventilation is essential for maintaining a healthy growing environment inside a greenhouse. Look for a structure with adjustable vents or windows that can be opened and closed to regulate its temperature and humidity. Besides that, think about the heating and cooling as well. To maintain ideal growing conditions inside your greenhouse, you may need to provide additional heating or cooling. Look for a structure with options for temperature control, such as built-in heating or cooling systems.
4. A greenhouse is a significant investment. The structure you choose should be durable, built to last, and suited to your garden's design. Look for a greenhouse with a sturdy frame, strong covering material, and good customer reviews.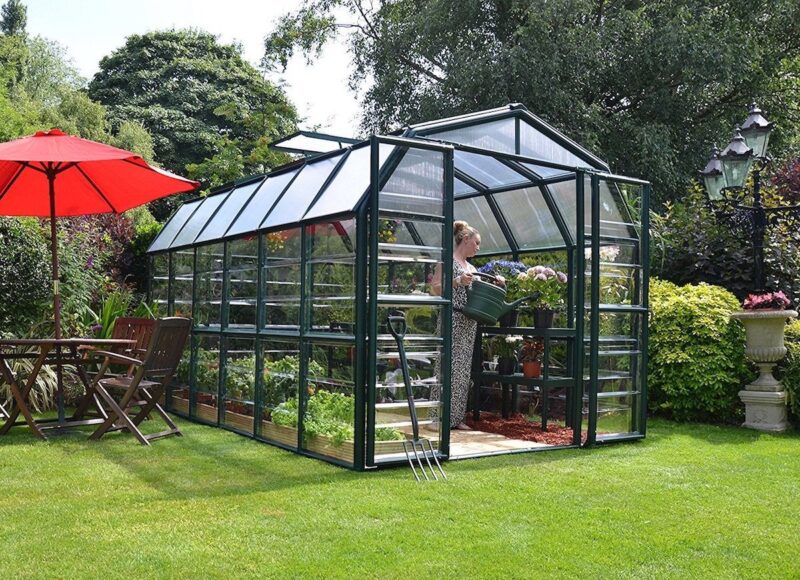 5. Last but not least, consider the price. Greenhouses can vary widely in price depending on the size, material, and features. Consider your budget and what features are most important when shopping for a greenhouse, especially if you're on a tight budget. If you can't afford to buy everything at once, invest in the essential items first, and you can expand a little every year. To determine whether the investment is worth it, research the supplier and find out what kind of warranty they offer. How reputable the brand is, what kind of technical assistance they can provide and the shipping and packaging they provide, for example.
Final Thoughts
Choosing a greenhouse can significantly improve your home's exterior. We hope that with our tips and advice, you will be able to choose the right greenhouse for your house. Whether you're looking for a simple, affordable greenhouse to get started with or a high-end, feature-packed model to take your gardening to the next level. You can make the right greenhouse choice by following our expert advice. We're confident you'll find the right fit. Have fun shopping!