Outdoor kitchens and cooking areas are becoming increasingly popular among homeowners looking to enhance their outdoor living spaces. When it comes to creating a solid foundation for these outdoor cooking spaces, concrete slabs are a popular choice.
Concrete slabs offer durability, strength, and versatility, making them an ideal option for supporting the weight and requirements of outdoor kitchens.
Discover what you need to know about concrete slabs for outdoor kitchens and cooking areas, including the benefits and considerations.
Strength and Durability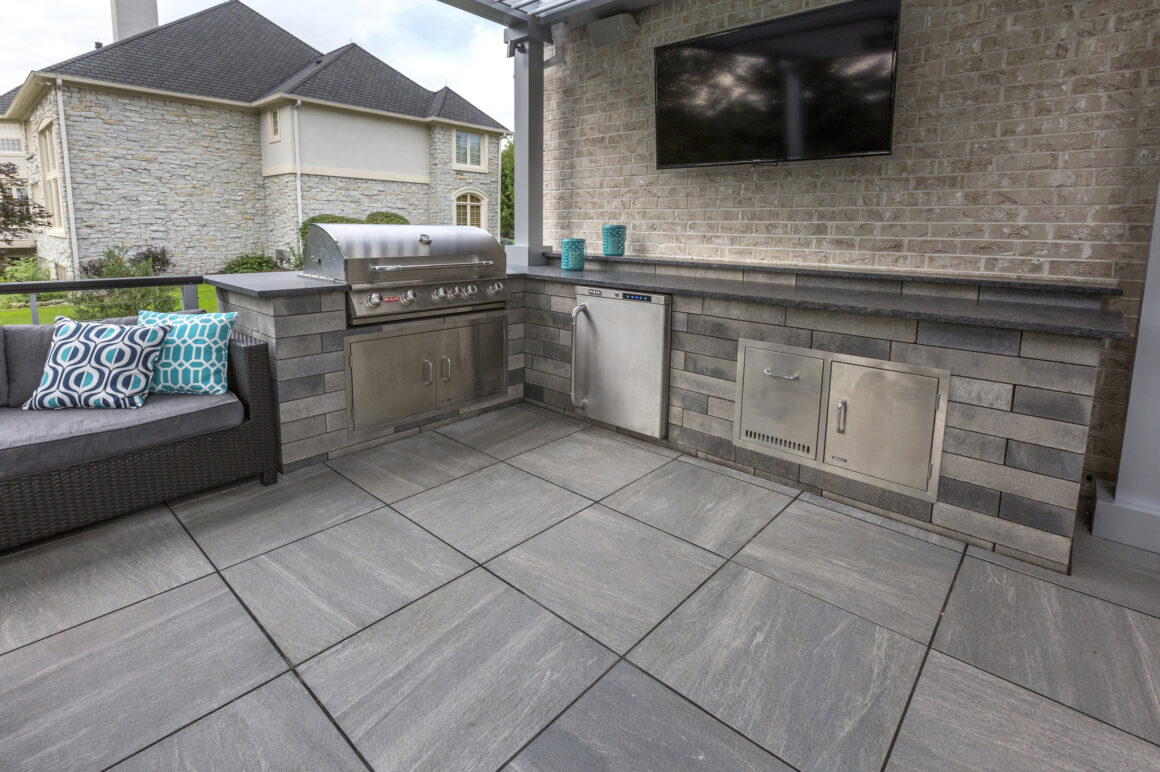 One of the primary benefits of using concrete slabs for outdoor kitchens is their strength and durability. Concrete is a robust material that can withstand heavy loads, making it suitable for supporting the weight of kitchen appliances, countertops, and other equipment. It can handle the constant use and exposure to the elements, ensuring that your outdoor kitchen remains stable and functional for years to come.
Additionally, concrete slabs are resistant to various outdoor elements such as moisture, heat, and UV rays. This resistance makes them suitable for different climates and ensures that the foundation of your outdoor kitchen remains intact and free from cracks or damage.
Proper Site Preparation
Before pouring a concrete slab into your outdoor kitchen, proper site preparation is crucial. This involves evaluating the area and ensuring it is suitable for the installation of concrete slabs. The ground should be properly levelled and compacted to provide a stable base for the slab.
Consider factors such as the location of utility lines, drainage requirements, and any potential obstacles that may need to be addressed before pouring the concrete. Proper site preparation is essential for a successful installation and the long-term functionality of your outdoor kitchen.
Thickness and Reinforcement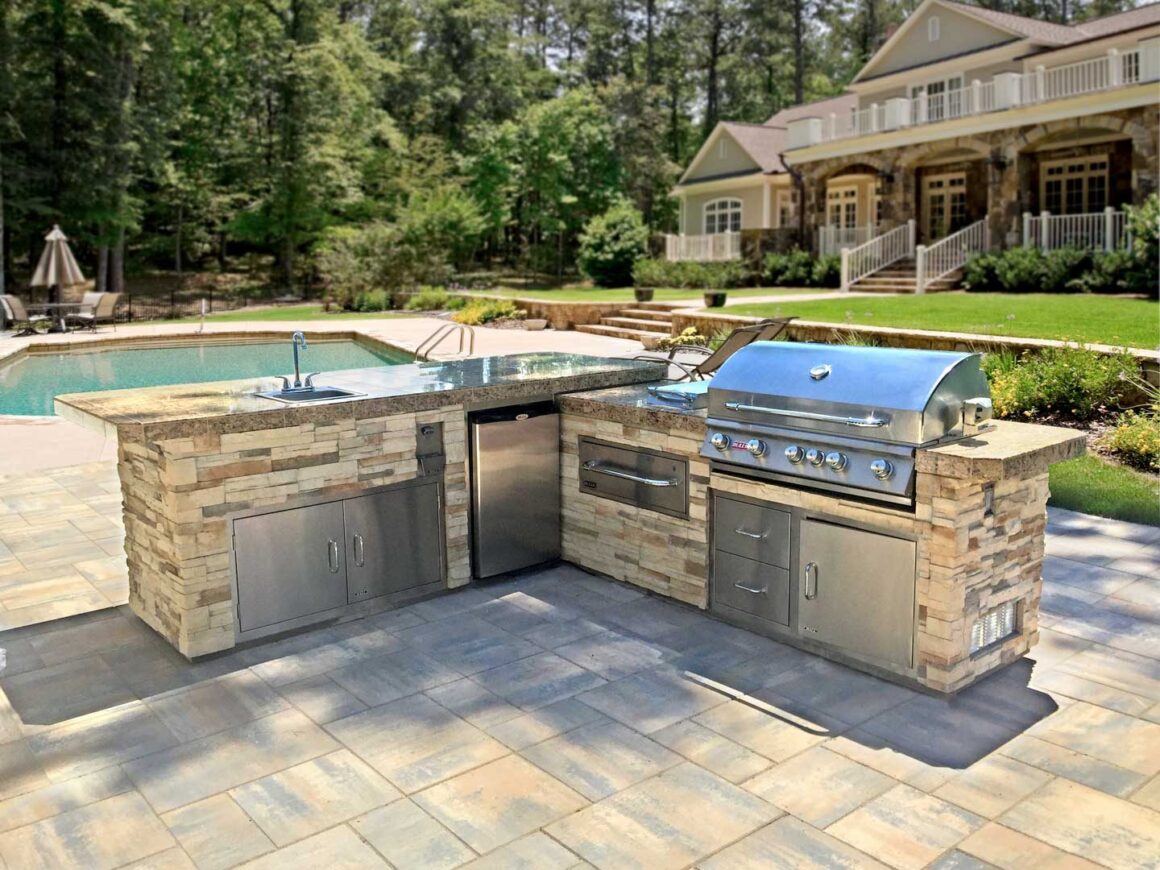 The thickness of the concrete slab for your outdoor kitchen depends on various factors, including the weight it needs to support and the soil conditions in your area. Generally, a thickness of four to six inches is common for outdoor kitchen slabs. However, consulting with a professional concrete contractor can help determine the appropriate thickness for your specific project.
To enhance the strength and stability of the concrete slab, reinforcement may be required. Reinforcing materials such as steel rebar or wire mesh can be added to the concrete mixture to provide additional support and prevent cracking. The use of reinforcement is particularly important if your outdoor kitchen will include heavy appliances or if the soil conditions are less stable.
Finishing Options
Concrete slabs for outdoor kitchens offer various finishing options to suit your desired aesthetic. Once the concrete is poured and cured, you can choose from a range of decorative finishes, such as stamped concrete, exposed aggregate, or stained concrete. These finishes can enhance the appearance of your outdoor kitchen and complement the overall design of your outdoor space.
Additionally, concrete slabs can be sealed to protect them from staining and enhance their durability. Sealing the concrete creates a barrier that prevents moisture penetration and makes the surface easier to clean. Depending on your preferences, you can select a matte or glossy finish for the sealed surface.
Discover how integrating thoughtfully designed garden features into your outdoor space can enhance your overall quality of life, creating a harmonious environment that promotes relaxation, socialization, and a closer connection with nature.
Proper Maintenance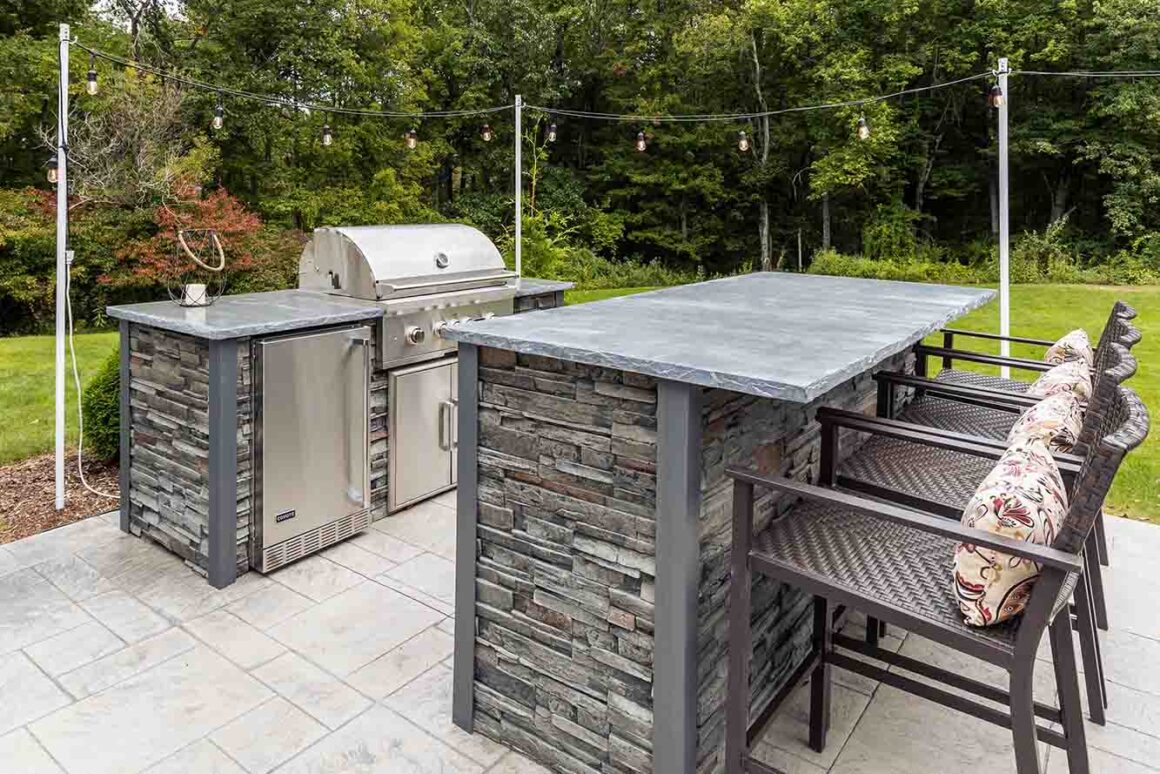 To ensure the longevity of your concrete slab and outdoor kitchen, proper maintenance is essential. Regular cleaning of the concrete surface, particularly after cooking or food preparation, is important to prevent stains and the buildup of debris. Avoid using harsh chemicals or abrasive cleaners that can damage the surface.
Periodic sealing of the concrete slab is also recommended to maintain its appearance and protect it from the elements. Consult with a professional concrete contractor or follow the manufacturer's guidelines for the appropriate frequency of sealing based on your specific environment and usage.
Conclusion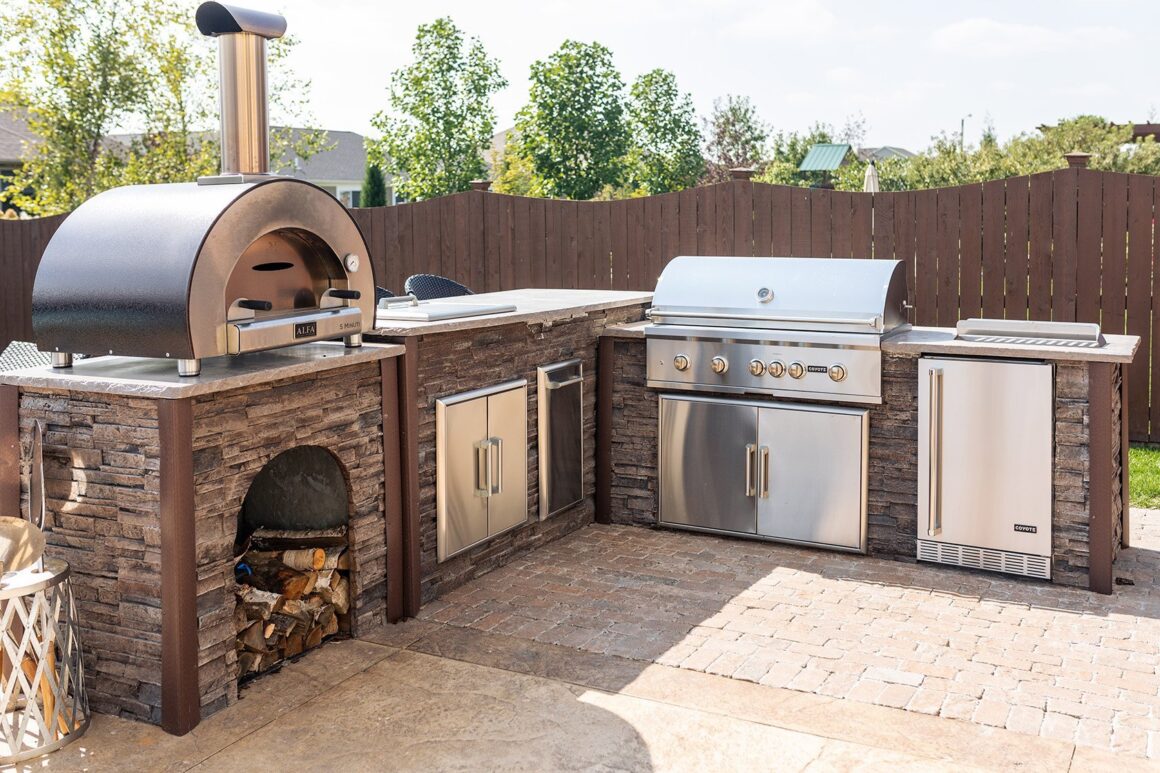 Concrete slabs provide a strong and durable foundation for outdoor kitchens and cooking areas. Their ability to withstand heavy loads and exposure to various outdoor elements makes them an ideal choice for supporting the weight of appliances and equipment.
With proper site preparation, the appropriate thickness, and potential reinforcement, concrete slabs can provide a stable and long-lasting base for your outdoor kitchen. By selecting the right finishing options and implementing proper maintenance practices, you can ensure that your concrete slab remains functional and aesthetically pleasing for years of outdoor cooking enjoyment.
As you plan your outdoor space enhancements, be sure to explore the latest trends and ideas for the best exterior renovations for summer 2023.