As the sun shines brighter and the weather warms up, spending time on the patio becomes a delightful retreat for many of us. But let's not forget about our furry companions who love to bask in the sun and explore the outdoors just as much as we do.
Creating a pet-friendly patio space with carefully chosen patio furniture can provide your pets with a comfortable haven while enhancing the aesthetics of your outdoor area. In this article, we'll explore a range of ideas and inspiration for patio furniture designed with your pets in mind.
1. Multi-Level Loungers for Cats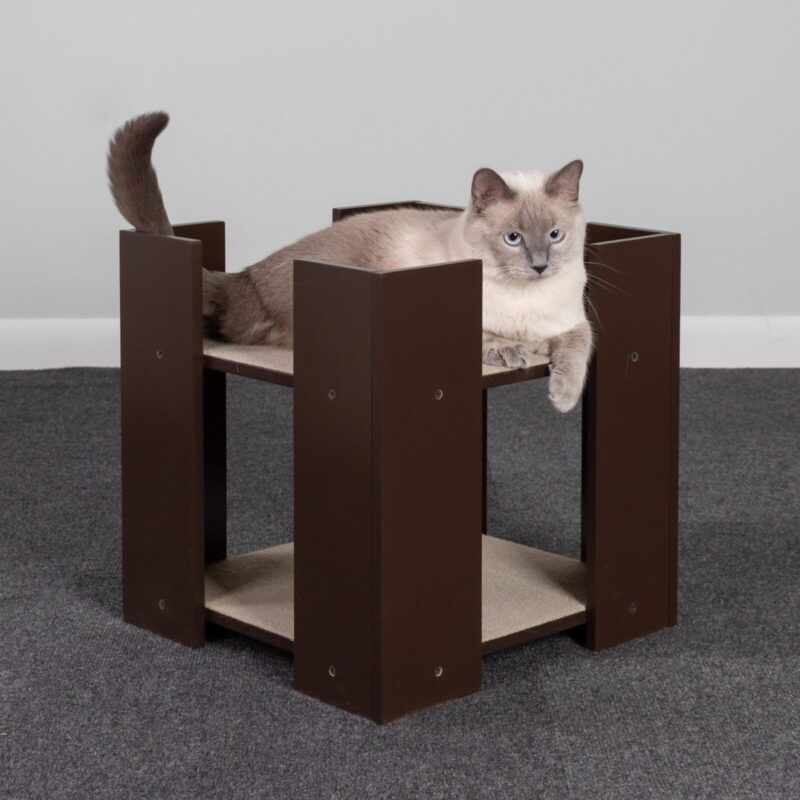 When it comes to cats, they have a natural affinity for high vantage points. Consider incorporating multi-level loungers into your patio furniture arrangement. These loungers not only provide your feline friends with a cozy place to rest but also a vantage point to observe the surroundings. Opt for loungers with cushioned surfaces that are easy to clean and resistant to scratching.
2. Dog-Friendly Daybeds
Dogs are loyal companions who love being close to their owners. Including a dog-friendly daybed on your patio allows your furry friend to lounge alongside you while you enjoy a book or a cup of coffee. Look for daybeds with durable, weather-resistant materials that can withstand the elements. Adding a soft cushion and a water bowl nearby ensures your dog's comfort and convenience.
3. Raised Feeding Stations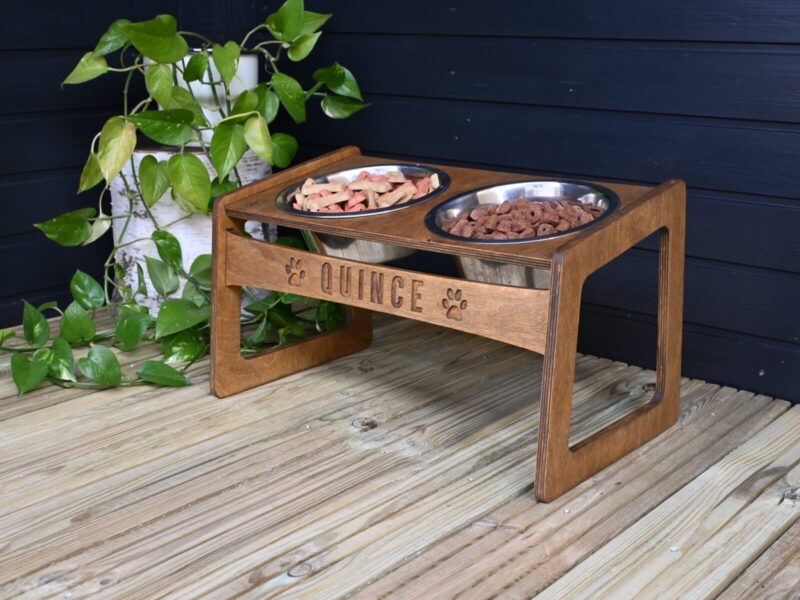 If you often enjoy meals on your patio, consider integrating raised feeding stations for your pets. These stations can be incorporated into your patio furniture design, providing a dedicated space for your pets to dine while keeping their food and water off the ground. Elevated bowls promote better posture during eating and can be particularly beneficial for larger dogs.
4. Weather-Resistant Cushions
One of the key aspects of pet-friendly patio furniture is choosing materials that are resistant to wear and tear caused by pets. Weather-resistant cushions made from durable fabrics like polyester or outdoor-grade materials are essential. These cushions are not only easy to clean but also resist stains and moisture, ensuring longevity even with pets around.
5. Cozy Hideaways
Cats and small dogs often seek cozy hideaways for relaxation. Integrate small, enclosed spaces within your patio furniture layout where your pets can retreat when they need some quiet time. These hideaways can be in the form of cushioned pet tents or enclosed cubbies built into the furniture.
6. Interactive Toys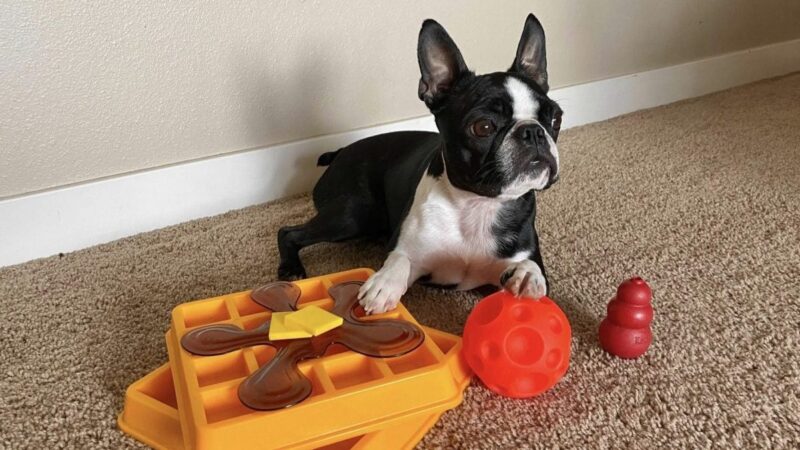 Keep your pets engaged and entertained by incorporating interactive toys within your patio furniture. For instance, a scratching post attached to a lounge chair or a hanging toy can provide hours of amusement for cats. For dogs, a built-in toy compartment in a side table can encourage playtime while you enjoy the outdoors.
7. Synthetic Rattan Furniture
When choosing the material for your patio furniture, synthetic rattan stands out as a pet-friendly option. This material is not only aesthetically pleasing but also resistant to scratches and chewing. Its durability makes it a great choice for pet owners, as it can withstand the playful antics of pets without losing its charm.
8. Pet-Friendly Fabrics
Upholstery fabrics play a crucial role in maintaining the aesthetics and durability of your patio furniture. Opt for pet-friendly fabrics that are resistant to claws, stains, and odours. Crypton, Sunbrella, and other outdoor performance fabrics are excellent choices, as they are easy to clean and maintain.
9. Portable Pet Beds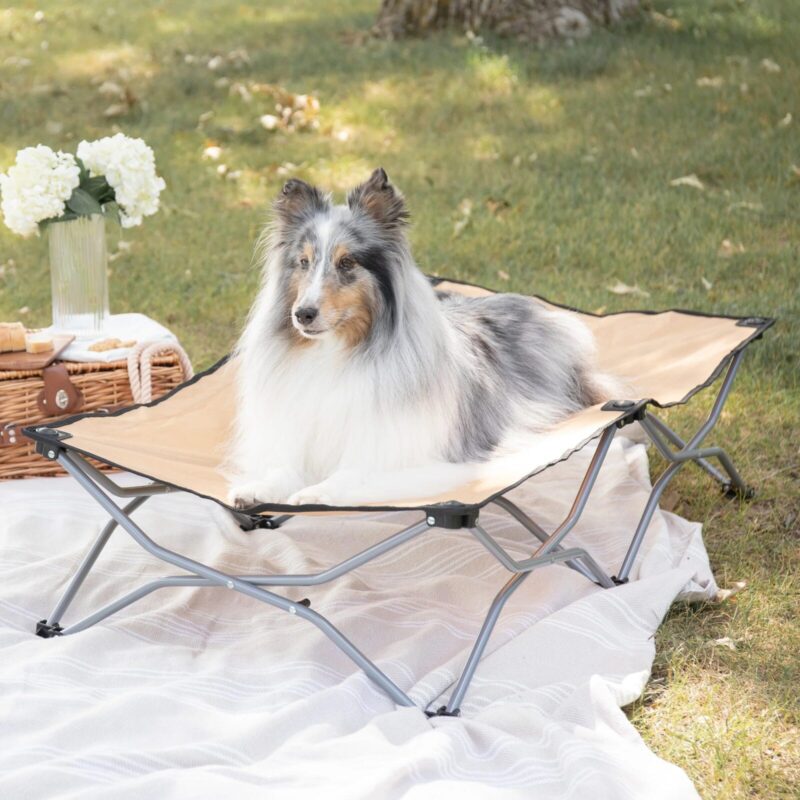 If you like to rearrange your patio furniture or take it indoors during colder months, portable pet beds are a convenient solution. These beds are lightweight and can be moved around with ease, ensuring your pets have a comfortable resting place no matter where they choose to relax.
10. Safety Considerations
While designing a pet-friendly patio, safety should be a top priority. Ensure that there are no sharp edges, gaps, or hazards that could potentially harm your pets. Avoid using toxic materials or plants that could be harmful if ingested. Additionally, provide shaded areas to protect your pets from excessive sun exposure.
In conclusion, designing a pet-friendly patio requires a thoughtful blend of comfort, durability, and aesthetics. By incorporating multi-level loungers, dog-friendly daybeds, raised feeding stations, weather-resistant cushions, cozy hideaways, interactive toys, synthetic rattan furniture, pet-friendly fabrics, portable pet beds, and prioritizing safety, you can create an outdoor oasis where both you and your pets can enjoy the beauty of nature in harmony. With the right patio furniture, your furry companions will have their own inviting space to relax and bask in the sun right alongside you.
Conclusion
Leaving your pets at home can be the wrong choice; they often create a lot of mess, and you will need hours to clean up after them. Creating a dedicated outdoor space for them is undoubtedly a better solution. So, consider choosing the appropriate patio furniture for them and make your life easier.